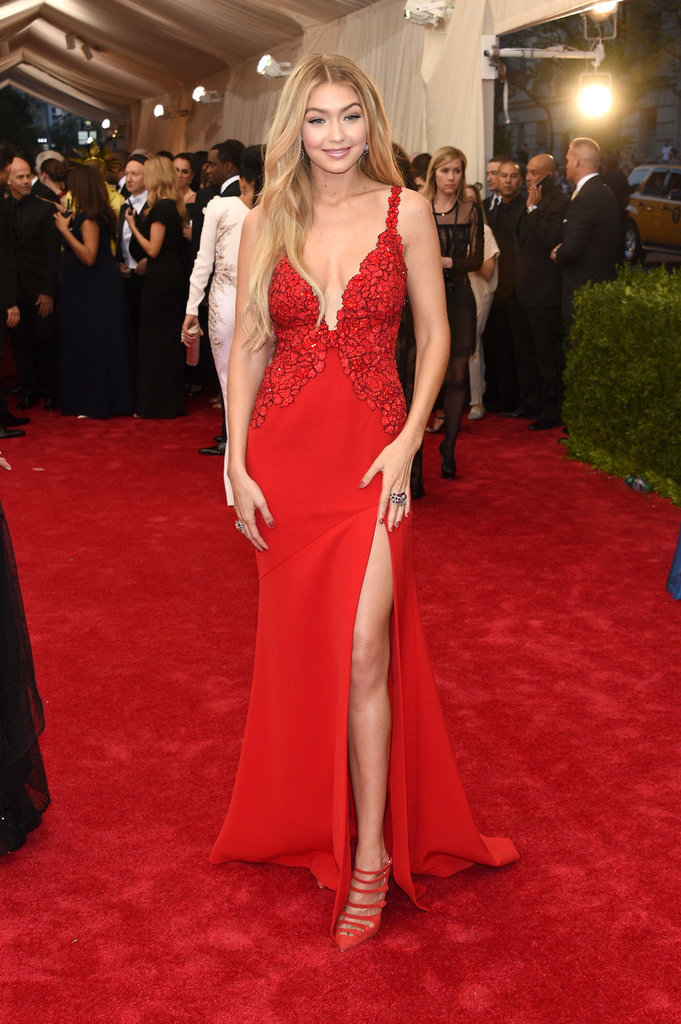 Gigi Hadid in DVF
Did anyone fall for the fake Jason Derulo falling down the stairs at the Met Ball tweet? I nearly did! Always good to do a little research before you blog! A bit annoying that Anna Wintour tried to go a with a theme again, this time China. It does seem many ignored the theme anyway or paid it lip service.
What is annoying is the whole who can reveal the most flesh competition that has degraded what was until very recently a celebration of beautiful craftmanship. Subtlety is dead and the whole thing seems to have adopted a Lady Gaga attitude of endlessly wanting attention for attention's sake. Next year let's rename it The Wacky Races!
Anyway let's get to point of who rocked and who didn't hit the spot.
Most photos are from Vogue
This is what I mean by the Gaga attitude to fashion. It's only good in small doses dahhhhhlllings!
Rihanna in Guo Pei
I don't wanna pizza this action.
Is it necessary to reveal everything? Peter Andre will need to look elsewhere for a mysterious girl.
Beyonce in Givenchy
We demand the world acknowledges our chests! A shame as some of the detailing is lovely.
Kim Kardashian in Peter Dundas
This is simply amazing Sofia Vergara! Marchesa.
J Law's is good, just add a bit more fun to the bottom half.
Jennifer Lawrence in Dior
In a word Glum! This is not very approachable and bad customer service indeed.
Cara Delevingne in Stella McCartney
Jourdan Dunn is in the form of her life right now. Can she take the Number 1 model crown soon?
Amal Clooney! I am really loving this!
Amal Clooney in Maison Martin Margiela
Another winner in Jason Wu red.
Reese Witherspoon
Rosie goes from strength to strength. The next Gisele Bundchen?
Rosie Huntington-Whiteley in Versace
Simply lovely Naomi.
Burberry Prorsum
Bet that Alexa Chung is thinking I'm sticking to my normal safe colours next time.
Alexa Chung in Erdem
Interesting FKA Twigs and Robert Pattinson. Just needs more luxurious material.
FKA Twigs in Christopher Kane
Not bad Kendall
Kendall Jenner in Calvin Klein
Wonderful Selena. Vera Wang.
This is why having themes does not work. A bit like Abba week on the X Factor or even worse Big Band week on the X Factor! You can keep your shark bait pal.
Sienna Miller
Respect to Lewis Hamilton for not wearing standard tuxes these days. Is this in the fast lane or the pits tho?
Joan Smalls rocks! Roberto Cavalli
Anna Hathaway must have come from an audition with George Lucas.
Anne Hathaway in Ralph Lauren
Solange! This can't be you! Nooooooooo.
Solange Knowles in Giles
A Prada fairytale for Kerry Washington.
Dolce & Gabbana were not crowned winners with this Karen Elson outfit.
Lady Gaga in Balenciaga
Zendaya's gown was cute.


Decent party dress Dakota
Chanel
Topshop at the Met Ball Hailey Baldwin?!


Now the best attempt at the theme Irina and it's very flattering too. Hair would be better worn up.
Very sweet Kirsten Wiig
Where's the Olsens boat going to? The River Styx?
The jacket is the highlight of Alicia Keys Jean Paul Gaultier outfit which at first I was not convinced about.
This is a hit Cher. Madonna take notes s'il vous plait.
I said take notes Madonna! Lovely hair tho.
No one more fragile with the China theme.
Chloe Sevigny in J W Anderson
Why so serious Rita? Bumped into Calvin?
Tom Ford
J Lo you classy thing!
Versace
No one was ready for this perfect storm Katy
Katy Perry in Jeremy Scott
(Insert own joke here)
Finally
Villain of the theme idea pays the price.
Small Favour!
If you enjoyed this blog and are a fan of Narzipan clothing can you be the coolest peeps ever and like our Facebook page please? :-)
Narzipan Facebook
Tweet
Pin It Now!