Alexander McQueen loved, inspired and glorified women. Below we take a look at our personal top 5 McQueen Girls. We chose them as they adore and champion Lee and wear his creations with such style, panache and showmanship.
1. Isabella Blow
Fashion Rebels Lee and Isabella in the 'Burning Down The House' portrait by David LaChapelle.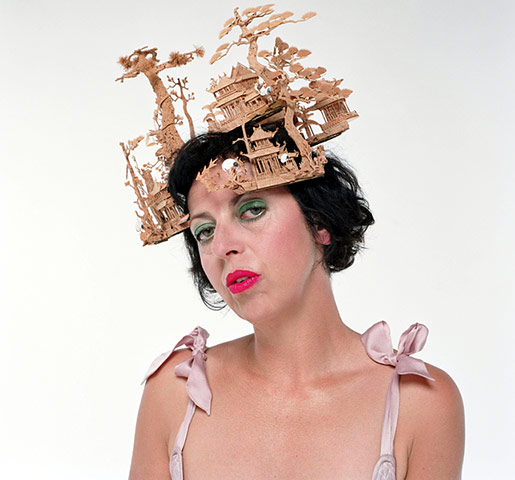 Isabella Blow was quite simply Lee McQueen's biggest fan from the moment she bought his entire graduate collection in 1993 for £5,000 even though she could barely afford it. Her support and enthusiasm at that time was a crucial boost to Lee's career.
The muse of hat maker Philip Treacy, no one rocked an attention grabbing hat as good as Isabella. She nurtured Philip by letting him set up shop in her flat to work on his collections.
Pictured here with Sheikh Majed Al Sabah, Isabella assisted both Anna Wintour and Andre Leon Talley at Vogue.
Check out the massive influence on Lady Gaga in this series of pics.
Isabella was into lobsters too
Gaga's lobster is great but the bodyguards are not exactly Kevin Costner stylee
This mask effect is high fashion at its best
Gaga does it with an Elton John extravagance
Amazing textures in the hat and stole
Gaga keeps a poker face reaction to her award win
Isabella with Daphne.
Gaga plays peekaboo with her disc
It was Isabella who spotted Sophie Dahl and then launched her modelling career
After Isabella died, Daphne Guinness (below) purchased her entire amazing wardrobe.
It was so important to Daphne to keep Isabella's collection of 90 outfits and over 50 hats together that she stepped in and bought everything before a planned auction could take place.
Daphne said "It's Issy, it's her DNA, it should not be scattered to the four winds. I want it to remain as a monument." Daphne you rock!
Our favourite pic of Isabella.
Isabella & Lee
2. Lady Gaga
Lady Gaga showed her love for Lee McQueen from day one of her career and she is a terrific champion of his legacy wearing this outfit to 2010 VMAs.
She really suited this year's mix of armour and soft textures.
An Elizabethan collar
An Elizabethan handshake
Who could you forget that piano?
Bad Romance was a bit of a showcase!
Life is like a McQueen butterfly..
The 2012 collection had a big under-the sea influence
Lee's last collection especially suited Stephanie Germanotta
Nobody does McQueen and Gaga as good as Vanity Fair
Just a totally stunning image.


3. Daphne Guinness
Daphne Guinness is a fashion titan!

A

model, designer, actress, collector, icon and inspiration. We love the drama she added to this wonderful McQueen dress.
Exceptionally talented and beautiful she works with fashion heavyweights such as Tom Ford, Karl Lagerfeld and Philip Treacy
Attending Lee's funeral
From the Girl Who Lived In a Tree Collection
Two icons share a joke
Daphne in the famous armadillo shoes
One of Lee's designs from his time with Gucci.
This was for V magazine in 2011
The crazy metallic heelless shoes
This month Daphne is auctioning off 100 pieces from her collection to raise money for the Isabella Blow Foundation which she founded to commemorate her friend.
4. Sarah Jessica Parker
Lee dressed Sarah in tartan and tulle for Anglomania Costume Institute Gala at Met in New York
Sarah at the CFDA Awards 2010 in an eye-catching cocktail gown
It could only be an McQueen/Treacy combo for the Sex & The City London premiere. Rule Britannia!
That amazing combo had to be repeated for the Sex and the City 2 premiere
Sarah honouring Lee at the 2011 Met Ball with a 2005 dress
Her sad eyes give away what occasion this was.
Sarah said of Lee "What is more devastating is that despite all his success thus far creatively, critically and commercially, his greatest achievements lay ahead of him."
Lee with thoroughly deserved CBE
5. Sarah Burton
What a daunting task to be guardian to a legacy. What an amazing job Sarah has done in carrying on Alexander McQueen with style, innovation and great heart.
Lee's last collection that did not make it to the runway.
These pictures show the superb collections Sarah has graced the catwalks with. She has added a wonderful, softer feminity to Lee's style whilst still glorying in his genius.
McQueen shoes are still jaw-dropping
We get the feeling that butterfly motif will become ever more important.
What a moment this was. Nailed It!
We also love Naomi Campbell rounding up some very special models in 2010 to celebrate Lee whilst raising money for Haiti.
Daphne Guinness, Natasha Poly, Karen Elson, Helena Christensen, Naomi Campbell, Angela Lindvall, Sasha Pivovarova and Heidi Mount.
Lee had a crush on a certain supermodel too.
Finally..
Every guy's most important girl
Lee simply could not live without her.
Tweet
Pin It Now!