There was an amazing collection of new food brands at Enterprise Nation's Food Exchange in Birmingham hoping to impress buyers from both Sainsburys and Selfridges.
Most of these brands were based on incredibly healthy recipes.
Another dominating trend was the flavours and recipes from Africa and the Caribbean. When you consider all the supermarket space given to countries such as India, Italy and China it makes you realise how forgotten about these recipes are and the massive potential they have to wow everyone with new tastes.Give them some more space buyers!
Neema specialise in spices based on recipes from the Democratic Republic of Congo.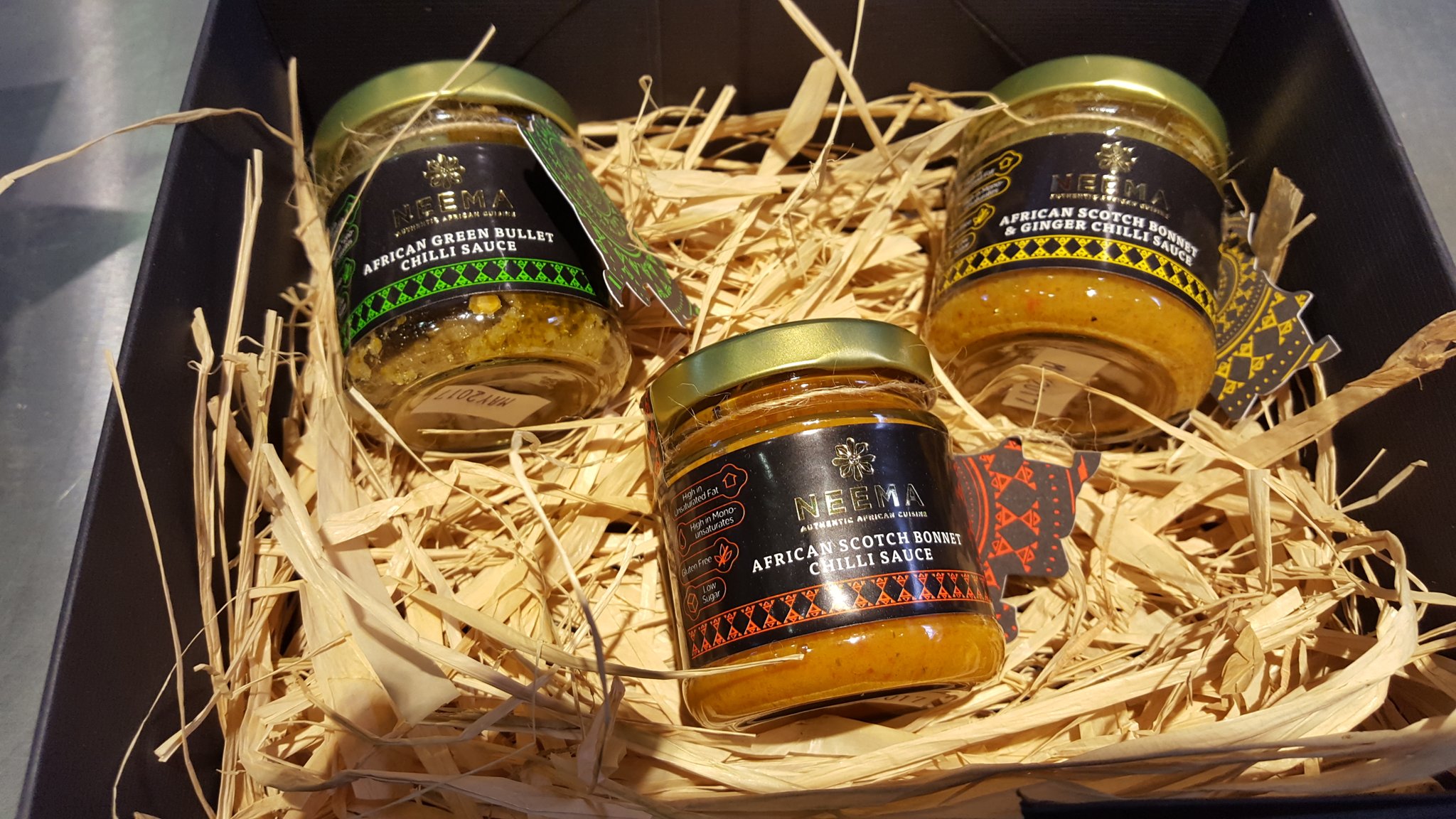 Founder Rose Yombo-Djema below got to pitch to the Selfridges buyer Adrian Boswell who approved of the packaging and the taste with some feedback that the bullet chilli sauce was maybe too hot.
If you like your sauces traditionally flavoured, try beating Seville Sauce's family recipes dating back to 1890! With red and green chillies and peppers to the fore they have an intriguing new Spanish whisky sauce in the pipeline. Both the buyers from Sainsburys and Selfridges mentioned that you better not be a member of the one-trick pony club as they constantly want new flavours and products from your range to keep customers coming back for more.
With successful subscription companies such as Graze and Hello Fresh racking up huge sales it's good to see smaller businesses getting in on the action. Tyga post beautiful spice and paste blends to your home to make it easier to whip up delicious curry recipes.
What's your flava? Tell me what's your flava? Is it salted caramel? Pecan pie? Rich chocolate? They all tasted dreamy to me. 'Kernel-in-Chiefs' Laura Jackson and Samuel Robert Feller hand-make gourmet popcorn with natural ingredients and top it off with indulgently textured toppings that mass brands simply can't compete with.
Claire's treats range from caramel slices to 'cheese-less' cheesecakes and donuts.
Key Point: You may have to knock your competition off the shelf to find a space.
Selfridges buyer Adrian Boswell made a crucial point that not only does your product have to be excellent to make it into his shelves it must also grow that category and not cannibalise sales from existing brands. In Nutty Cacao's case Claire needs to compete with and beat Livia's Kitchen to get listed in Selfridges. Claire stated that her wider range of flavours is her strategy to make this happen.
A daughter's love for her father and a desire to create treats that he could enjoy after being diagnosed as coeliac is the driving force behind Pure Treats. Choconut and date snacks to put a smile on your face.
Unique Balkan flavours and great branding makes Granny's Secrets a standout brand at #FoodEx. A focus on natural products such as ajvar pepper relish and artisan juices such as wild blueberry fruit juice brings a taste of the countryside to the big city.
I loved these sauces below for the instant punch of flavour they gave me.
Their aim is help to support your dietary choices with truly simple natural products.
Liven up your breadbasket with a red quinoa loaf, golden linseed loaf or even an onion and seeds loaf.
Lyco Life contains antioxidant Lycopene if you need to detox whilst Rejuvenation Water's ginger and lime drink wowed me with it's delicate tasty flavour.
No brand gave out more freebies than Aqua Carpatica!
Tweet
Pin It Now!