Wow Taylor! Miss Swift is really at her peak these days. I like Elie Saab and this is a step up in creativity too.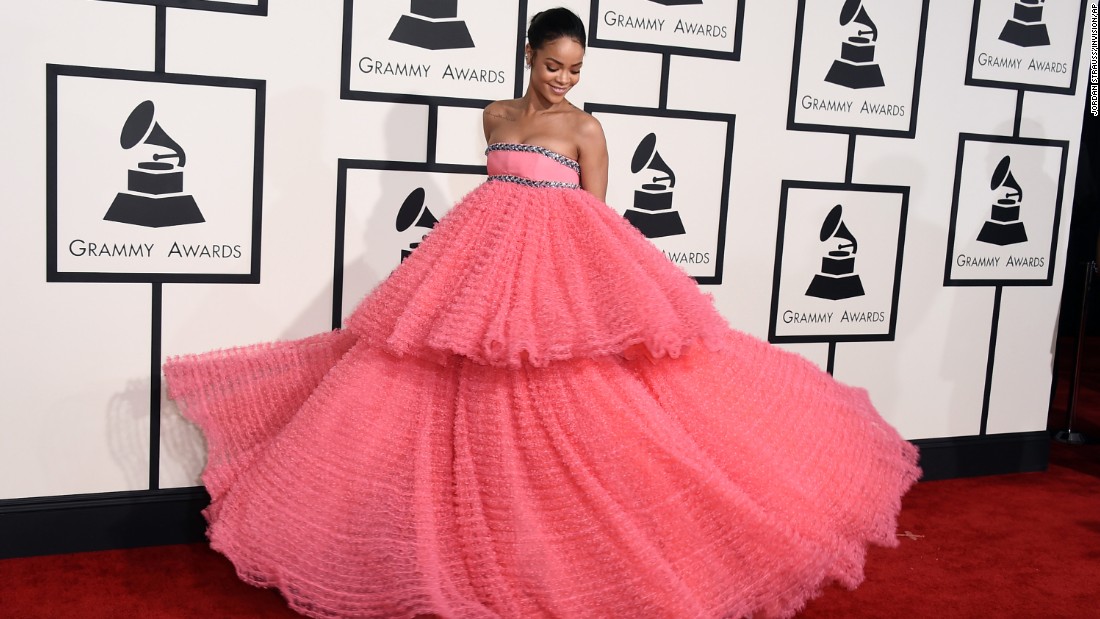 This look by Rihanna was described by one critic as resembling "the little doll that sits on toilet rolls". The dress is Giambattista Valli but it reminds me of
McQueen from a few years ago. Not a fan of either!
A bit of a Star Trek hairdo going on here Iggy. I do this, I thought that you knew this.
The Prada dress needs cut out details Rita. A bit of an OAP haircut too I'm afraid.
Pretty good Jessie J! Way better than the garb in your Masterpiece video. Ralph & Russo dress.
Fab Gwen! Jumpsuits are a growing trend on the red carpet. This one is Atelier Versace.
An off night for Katy in Zuhair Murad. Incongruous ma dear.
Remember the scene in movie Big when Tom Hanks turns up to the office party in a wedding tux?
Fun Saint Laurent dress Gwen. Hair needs an updo.
That Mugler dress is too small Nicole.
Chrissy Tiegen's Pucci dress loses points for the chest peekaboo.
Anna Hendrick's on the right track but we need a colour here or accessories to add interest. Over sombre innit.
An off night for Ariana.
I like Meghan Trainor. Her album is good with better songs than the single releases so far. This is unflattering though, it needs more delicacy and subtlety.
I try not to feature Kardashians or Jenners as everyone does that but these are good from the after party
You thinking about being my Jenner it don't matter if you're black or white.
Pucci suits ya Rita!
Finally
I found most of the ceremony boring with a surprising number of slow solemn songs being performed. Every song seemed to feature violins! Thank goodness for Sia & Maddy.
Most photos from Vogue.com
www.narzipan.com
Tweet
Pin It Now!