Njena Reddd Foxxx is a new kid on the Brooklyn rapping block. She was hanging out with her friend, rapper Zebra Katz and just one recording session later she'd featured on smash hit 'Ima Read.'
Fine art graduate Njena was working as an artist's assistant and doing construction work of all things before that song.
"I was a lowly carpenter like Jesus before I was a big rapper."
Zebra Katz got her to swap her construction uniform for a school uniform.
The 'Ima Read' song highlights their interest in the schooling needs of ignorant young ladies.
Pupils not wearing official school uniform will be sent home immediately.
The song went mainstream when Rick Owens used it on the catwalk for his a/w collection.
She's used this song as a platform to go solo. She's so new to rapping that she only has a few tracks to her name.
"Yeh. We cool".
Touring with Zebra Katz has helped Njena develop her raw talent and work on new tracks.
Njena loves varsity jackets.
Checkout this 'Silly Bitch'
Njena says that song is not aimed at anyone in particular and that her mom said with name calling that "It's not what someone calls you, it's what you answer too."
$600 knit dress by Timo Weiland
These two pics are from a great article on Bloginity.
Njena wears a Maison Martin Margiela sweater. MMM is H&M's designer collaboration this year in November.
The guys stocking up on knowledge.
Finally
Njena continues to tour and work on new tracks. It would be cool if more collaborations with Zebra Katz come out.
Cara Delevingne is a fan.
We got to meet her on tour in October!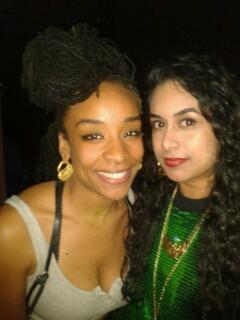 Njena's twitter
www.narzipan.com
Tweet
Pin It Now!