They make sweaters you want to live in 24/7 and show off 365. Coveted by fashion trend setters and celebrities, Wildfox's vintage inspired knitwear is now a phenomenon.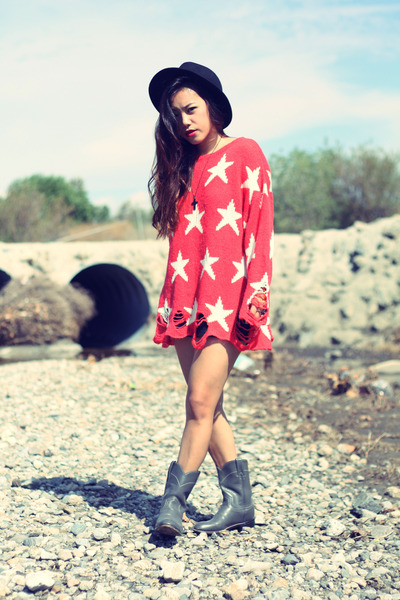 Soft fabrics, unique designs and signatures such as wide necks, long sleeves and ripped edges make Wildfox sweaters the definition of lust.
Our Favourites
Love Skull sweater $178
Billy Cropped Sweater $167
Love the cropped silhouette.
White Stallion Fringe Poncho $285
Luscious lace.
Immortal Seattle Sweater $285
Love this coloured tights matching the sweater vibe. It's a change from leggings right?
Sacred Heart Sweater $240
Burning Heart Pullover $185
Crew neck style with ribbed sleeves.
Boarding School Hooded Manhattan
A great gothic vibe for $368
Wildfox Seeing Star Jumper
£200.00
Wildfox Black Cat Meow Sweater Top
£154.00
Lookbook Lovelies
Lua P in Kitty bodysuit.
Severine A. Romeo sweater and Mtng platforms
Kendal C gets the grunge goin
Her Freddy Krueger look was amazeballs.
Rachel L is Wildfox's biggest fan and ambassador. Rose sweater and Chanel imposter shades.
Check the Skeleton claw from Pray for Paris.
Wildfox Queen Rachel L.
This look by Dominique N is locked down.
Celeb Fans
Ashley Tisdale
Emma Watson
Don't do this!
Waaaay OTT Rosie babe.
The boho look needs serious updating for us. It's cliched now and Coco Rocha was spot on when she said she was Coachella'd out and she wasn't even at the festival
Whitney's clean glam look seems a bit joyless.
Rule Number 1: You Gotta Have Fun
A rare off day for Selena Gomez.
Finally
This asymmetrical maxi dress is taking that trend all the way to fashion wow territory.
Annie Hankshaw dress $360
Wildfox Couture
www.narzipan.com
Tweet
Pin It Now!