They defied all the odds and the fashion snobs to become one of Xmas's biggest sellers. Onesies put the fun and cosiness into Xmas.
Cara Delevingne led the way with one from Kigu.co.uk's animal range. Rihanna let it influence her forthcoming River Island range.
She got pretty cosy for those long flights..
And at home too.
Jessie J teamed hers with a biker jacket!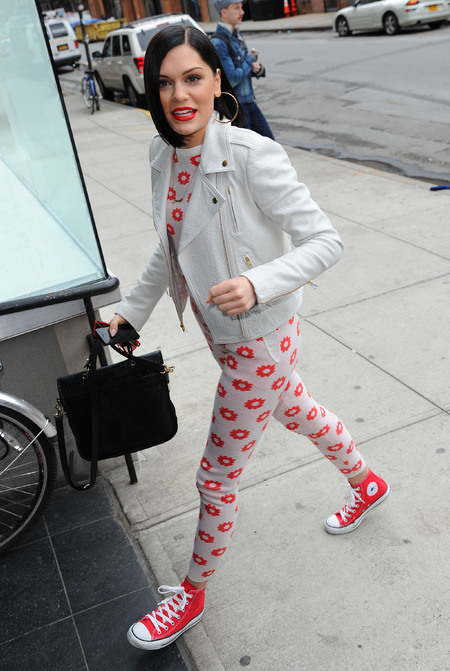 Rita Ora rocked floral style
Does Ellie Goulding top your onesie charts too?
1D's current stylist pointed out that this was BEFORE she took over.
But look what Noah Cyrus wears!
Selena Gomez is very cute.
I don't think you can get any more chic in a onesie than Alessandra Ambrosio.
Jade from Little Mix like many wore hers to open presents on Xmas day.
Stooshe went street vibe wit attitude.
Music-over-sound tumblr Monkey Style
lollipop-01 Pandas to the trend.
Dreaming-dirty as Stitch!
A friend at Asos loves Adventure Time Style.
Spongebob! Cosypyjamas.com
Try These!
Head to ASOS for Onesie Heaven!
Kigu Cow £50
Lipsy Leopard £40
New Look Lips £15.99
New Look Heart £22.99
New Look Spot £15.99
Kigu Pug £50
ASOS Xmas £45
Big Print £90
Amazing! River Island Mickey Mouse £35
ASOS Exclusive Colour Block £65
ASOS Zip Front £18
Boohoo.com
Panda Print £15
Zebra Print £15
Make like Mariah Carey! Mrs Xmas £25
Reindeer Stripe £25
Ain't being funny. I know another bee's been in your honey £25
Missguided Snowflake £19.99
Missguided Deep Green £12.99
Tweet
Pin It Now!