There are lots of cool bomber and varsity jackets around right now. Rihanna's Givenchy Resort one is chic fantastique.
Ciara's scorching in black.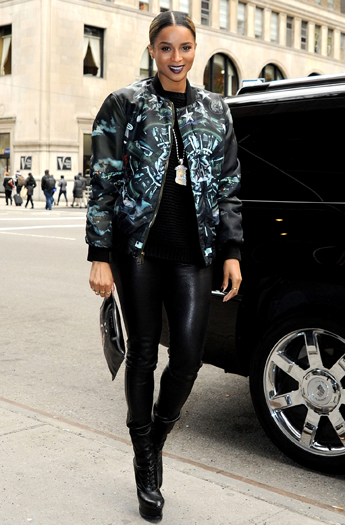 Cara and Rita rock them with beanies.
Bow down to Beyonce in Dolce & Gabbana
Here's some of our high street faves.
Urban Outfitters
Make like Jessie J in this cropped number also £120
Go silky smooth for £325 with House of Hackney
H&M Conscious collection jacket £19.99
Quilted jacket H&M £34.99
Also from H&M
Embroidered jacket £199.99
Topshop
On Lookbook.nu
Bebe Z in Hibiscus print Yes Style jacket.
Bebe also stuns in Romwe Galaxy print.
Go 80s vibe with Pax I's Wardrobe Check jacket.
Van Anh L in Zara floral jacket.
Paula I in stars and stripes paired with Chicnova tee.
Tweet
Pin It Now!