Vogue have a wonderful gallery on the Met Ball.
Nina Dobrev from Vampire Diaries in Monique Lhuillier magnificence.
It's brilliantly designed, beautifully cut, intricate and hip.
Emma Watson seriously glam in Prabal Gurung.
Riri recently nailed it in Givenchy on her tour and Beyonce's Givenchy look is defo one of the highlights of the night. She's really into her snakeskin these days. Look closely at her matching boots. An interesting look that just needs a better pattern.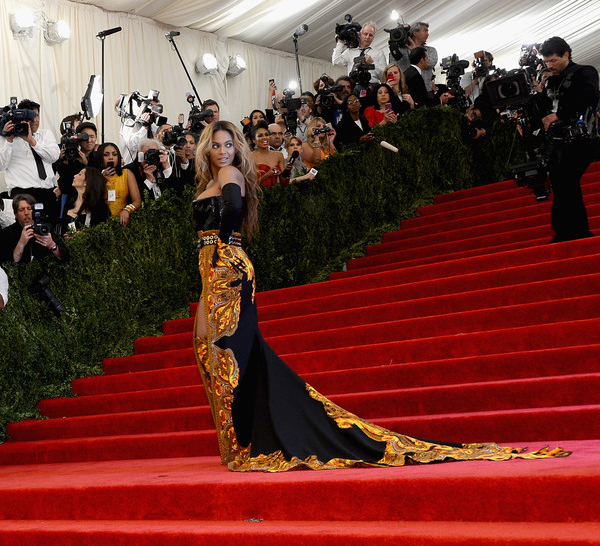 Alexa darling you're not normally this fun! More of this vibe please my dear. Erdem brilliance.
Now I love Rooney Mara and indeed her sister Kate too.
This is very pallid though.
Queen Delevinge went for studded Burberry splendour. She really played to the punk couture vibe with elan.
Anne Hathaway took lots of risks which gets muchas respektas. Did not pay off though! Side boobage issues and contrasting blonde hair in a 'hard to believe its Valentino' dress.
Kate Bosworth's Balmain wonder was a funky contrast to all the black numbers. Kwl!
J Lo's leopard print by Michael Kors is just ok.
The pattern is not wonderful.
Madonna's never going to grow up is she? More Givenchy.
Miranda Kerr looks stunning! Perhaps too much flesh on show though and the black needs blinging. Michael Kors dress.
Kim still persisting in wearing couture rather than embracing her bump and working with it instead of ignoring it.
Taylor's black dress is more interesting than most of the other LBDs as it has beading and lace detailing. Way to go J Mendel!
Katy Perry how could you do this to my beloved Dolce & Gabbana fall 2013 collection?!
You can't have curly hair with that look! Omddddddssss!!
How it's supposed to be done.
Check Solange's killer earrings. Kenzo dress.
Off night for Nicki in Tommy Hilfiger
Bella Heathcote in Chanel was lovely
We just did a blog on the gowjus Chanel Iman. She can do classy as well as sexy. J Mendel gown.
Loving Brooklyn Decker's futuristic Peter Pilotto dress.
Emilia you should have brought your Game of Thrones dragons along! Surely the ultimate accessory! Classic Ralph Lauren.
Digging Felicity Jone's Proenza Schouler number.
Finally
Bored of JT in Tom Ford? Try Eddie Redmayne in Dior Homme instead.
Tweet
Pin It Now!