s/s 2011
It's Viktor and Rolf's 20th birthday this year so let's celebrate the Dutch fashion maestros!
They recently announced that they are resuming having a haute couture collection for the first time since 2000.
Feast on their greatest hits below and you'll soon be as excited about that as we are.
Can you imagine ironing this many collars?!
"For us fashion is the antidote to reality". That's deep man.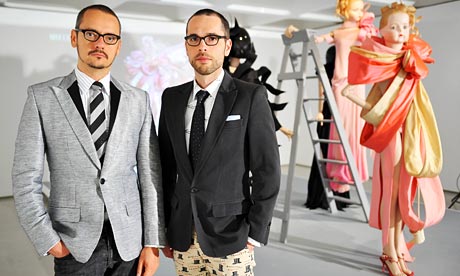 Experimental and avant-garde with twists of humour and fantasy they have so many unique ground-breaking designs.
Wonderful sense of theatre for s/s 2012.
They love playing with dolls.
'Light up, light up as if you have a choice'
Barbican exhibition 2008
They know how to handle British winters.
No doubting their genius.
Let's start with this year!
F/W 2013
Gorgeous Fei Fei Sun
Bows were the flow this year in really youthful and accessible collection.
Leather skirts with a twist.
Edgy shirts.
Party dress on Grace Mahary.
A winning mix of accessible and high flying pieces.
S/S 2012
You know, V&R bring out the very best in our Daphne.
Loved the glamazon Miranda Kerr look.
Joan Smalls brilliance.
Sweet make-up.
A collection that truly thrilled celebs.
Katy Perry Jive Smurfin
Jessica Chastain.
Jennifer Lawrence.
Anais Pouliot with a look made for Rome or Cannes.
Karlie Kloss was yet another model this collection let shine.
Amazeballs shoes.
Delicate and sweet.
'But it's over now, go on and take a bowwwww'.
F/W 2011
Knights in shining armour was the medieval vibe this year with blood red make-up adding extra spice.
"We felt the need for protection".
Perhaps a lotta love and affection too.
Daphne Groeneveld's dress was a smash hit.
Leigh Lezark is a big fan.
Exquisite tailoring here. Really brilliant.
I've been expecting you Mr Bond!
Ravishing ruffles.
S/S 2010
When I Googled V&R it was this tour de force collection that inspired me to blog the supreme designer duo.
V&R do not let credit crunches and financial disasters turn their moods sombre and austere.
Beautiful fairytale tulle dresses with cutes and bites put fashionistas in dreamland. Something very special and unforgettable had been created.
Olga Sherer makes you go Oooh!
Karlie Kloss turned on the drama.
This was freaky...
Spongebob!
Gaga
Jessica Alba took this look to another level.
Never underestimate The Alba!!
Chanel Iman provided the lingerie vibe in the show.
S/S 2009
Gaga gave this collection a whirl.
Fall 2008
3D lettering was a 'stand out' feature this year.
Feeling these.
S/S 2008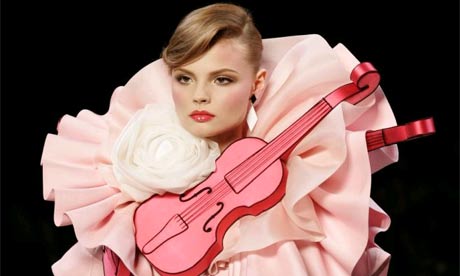 The kinda girl to string guys along.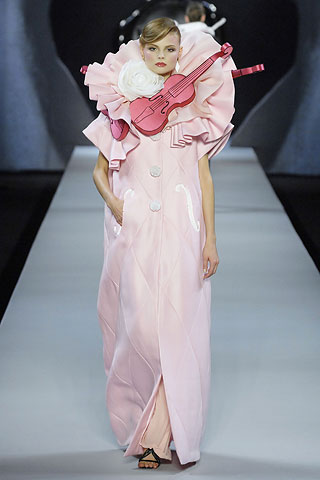 Finally
Embrace the zaniness and join the V&R army!
Tweet
Pin It Now!