Can you believe that Victoria Justice has been acting for ten years already?
When her family moved to Hollywood when she was just ten years old to chase that dream, did they dare to dream this big?! Those exotic looks of hers are from her Puerto Rican background on her mother's side.
After roles in The Gilmore Girls and The Suite Life of Zack & Cody it was bagging a main role in Zoey 101 where Victoria's career started gaining serious momentum.
Take a bow Lola Martinez!
Her love of music made it's first appearance in 2007 when Victoria covered Vanessa Carlton's 'A Thousand Miles' song. "Music always come natural to me and is something that I've always wanted to do".
2010 saw the debut of her specially created show 'Victorious', with it achieving the second highest ratings ever for a premiere on Nickelodeon.
On performing the theme song for the first time on the show "Woah, this is something I can do for the rest of my life and maybe be successful at."
With Ariana, Elizabeth and Daniella.
Her debut solo single 'Gold' came out in July and has already had nearly 10m hits
Victoria appeared in iCarly as a character called Shelby Marx.
This was the full iParty with Victorious crossover.
With Ke$ha looking less grungy than normal!
There was disappointment all around when Nickelodeon cancelled Victorious once it got to 60 episodes as it likes to keep programming fresh and original.
Now it's time to kick off your shoes and relax as we explore Victoria's style!
Victoria Style
Victoria is all about glamour, glitz and party dresses at the many awards shows she attends.
She loves a bit of sparkle!
Keep the jewellery chic and simple.
Get that hand on your hip to emphasise that svelte waist.
This style particularly suits her.
Get colourful for Kids' Choice Awards.
Wear your hair up for extra elegance.
This girl loves a clutch!

Victoria's Street Style
A love of jeans and leather jackets for her smart casual vibe.
Her $15 NYC street vendor hat.
Eat your vitamins and believe in yourself and Hulk Hogan.
Dabble with the rock chick aesthetic.
A hint of midriff is still classy.
Doesen't it feel like xmas? Doesen't it feel like xmas?
Stay innocent in a guilty world!
Filming the new MTV series Eye Candy
Check the hair!
Lots of cool Victoria photos on Tumblr.
Finally
We <3 you too Victoria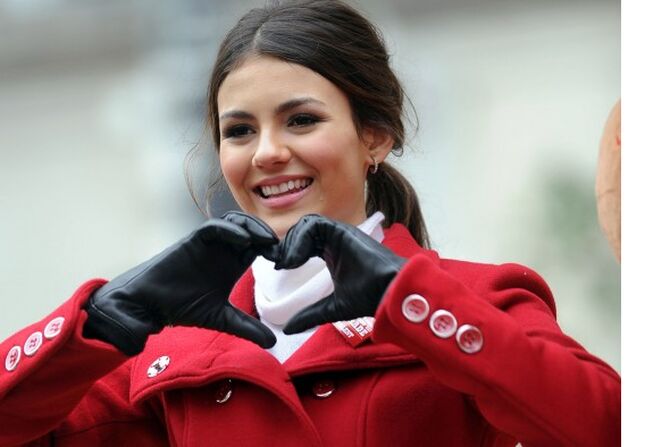 Tweet
Pin It Now!