We loved Dazed & Confused's Iris Apfel interview so much we had to share the pics and wonderful quotes from that fantastic article in their November issue.
Iris at 91 is the kind of role model everyone should have. An extremely intelligent business woman, textile expert, interior designer and prominent style icon, especially since a 2005 exhibition at the Met in New York.
On being active and enjoying life "Just because you get to a certain number doesn't mean you have to roll up into a ball and wait for the grim reaper. We were put on this earth to do something."
On fear of ageing "The advertising is disgusting. Cosmetics companies, in their ads use 16-year old models with flawless skin, then they retouch them until they look inhuman. Who can look like that?"
These mind-blowing clothes are all Comme des Garcons.
"My feeling has always been to dress to please myself. If somebody doesn't like what I'm wearing, it's their problem, not mine."
"You have to know who you are and what you can carry off. And learning who you are is not easy, so you have to work at it."
On her fame "I think it's hysterical. My husband and I laugh about it all the time, because I'm not doing anything different than I did 70 years ago, and all of a sudden I'm so hot and cool, and whatever the hell the kids say I am."
"I don't think fashion should be taken so seriously. It's something you should adapt to your mood and spirit."
With award winning Alexander Wang
"It's okay to take risks. The fashion police aren't going to come get you and put you in jail. All you can do is make a mistake, and what's so bad about that?"
At Joanna Mastrianni a/w 2012 show
Iris's brilliance with textiles has seen her work with Jacqueline Onassis, Estee Lauder and the White House on important restorations "If president's wives got involved in decorating God know's what we'd have."
On her mum being very accessory-conscious "She taught me how transformative accessories are, how they can take the same simple unadorned outfit from the morning to a cocktail party"
"I think getting dressed is wonderful and I love it, but there's a whole big world outside of the closet."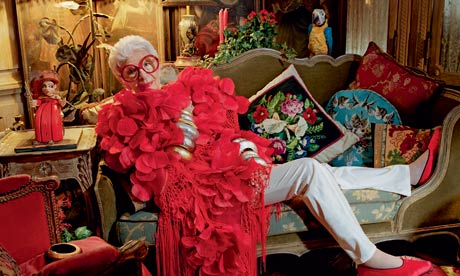 The whole interview in Dazed & Confused is eclectic and full of wisdom. Grab a copy!
Iris has been married to Carl Apfel for 64 years. Amazing at marriage too!
Tweet
Pin It Now!