I like The Naked & Famous and watched them live 2 years ago. I'm surprised that their career has not taken them to bigger fame and acclaim.
Songs such as 'Punching In A Dream' and 'Young Blood' had great vocals and anthem potential but they still have not fulfilled their talent and real fireworks in their career still await that crucial spark. This is how they looked back then.
Their new album In Rolling Waves was released this week and is the result of the band moving to LA to pour everything they have into the record. 'Hearts Like Ours' is the lead single.
As always it's singer Alisa Xayalith's haunting vocals that grab you.
I think the video and the styling are missed opportunities for this single. Badass lead singers don't sit comfortably on sofas wearing cream sweaters. She's the main asset and upping the style and impact would help the talents of the band get more recognition. Think Hayley Williams of Paramore.
They spent a lot of time touring and this can often be draining and lead to things getting stale. I've read this about a lot of bands in NME magazine.
Alisa and co-singer Thom Powers's relationship had teething troubles during the last two years and provided inspiration for the new album. That works really well for Adele!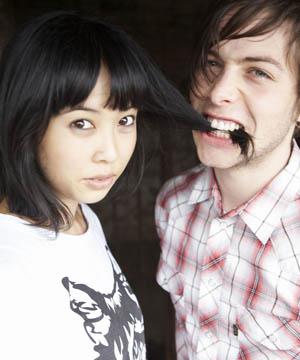 I think their music could get edgier and have more attitude. Get angry guys!
Stick it to the man!
Alisa's feisty vocals on ' Punching In A Dream' is what I'm talking about.
Finally
You have the talent
You have the style
Maybe it's time to join Haim!
The new is album out now and received 7/10 from NME magazine.
Tweet
Pin It Now!